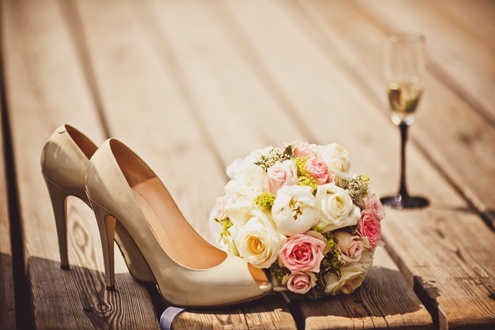 Each nationality has its own traditions and customs and the ones that are connected with weddings are among the most amazing ones. Here are some interesting wedding ceremony traditions from around the world:
The informal wedding counselor (Moldova and Bulgaria)
It seems that these two countries have found a unique (and cheaper) way to cope with saving marriages. In Moldova and Bulgaria there is a tradition according to which the newly-wedded couple chooses an informal wedding counselor (usually a friend or a family member), who is by the couple's side in their hard moments, giving advice and offering help. What's more, they have the advantage of being an important part of the new family, thus focusing on preventing problems before they become so big you need professional help for. In Bulgaria it is usually a couple that has already been married who not only actively participates in the wedding ceremony (being the second most important couple after the bride and groom), but they also participate in the newly-married couple's everyday life, attending all major events like birthdays, holiday celebrations, etc.
The longest wedding celebrations (India and gypsies)
In India as well in the gypsies' tradition there's the notion that a wedding celebration should last for days. Perhaps the fact that gypsies are also from Indian origin explains the similarities between these two nationalities' traditions. The wedding celebration for them includes many days of festivities (sometimes up to a whole week or even longer, depending on your social status). There are different rituals and ceremonies that take place before the wedding, on the actual wedding day, and even days after the main wedding ceremony has already been performed.
The "horns of jealousy" (Japan)
Japanese people are famous all over the world for their long history full of traditions and rituals. Weddings are no exception to this rule. On her wedding day a Japanese bride is painted in white from head to toe and wears a snow white kimono that symbolizes her innocence and virginity. Except for that, she has to wear a white hood that (apparently) should hide her "horns of jealousy" from her mother-in-law, promising to be a humble and obedient wife to her husband. Her wedding dress, however, does not come down to just the white kimono. During the wedding ceremony and reception, she is also changing into a red kimono and wears a Western-style dress as well.
The earliest wedding planning (Germany)
You may find it hard to believe, but in Germany the wedding planning starts rather early on… with the future bride's birth! When a girl is born in Germany, her family plants several trees in her honor. Once her wedding date is set, these trees are sold and the money from this sale goes to her dowry (that's a sum of money that the bride brings to her new family). On the wedding day there is a wedding newspaper, created with the help of friends and family, that is sold to the guests and the money coming from these sales help pay for the newly-wedded couple's honeymoon.
Posted in
Wedding Ceremony
,
Wedding Dresses
,
Wedding Traditions
Tags:
German wedding traditions
,
her wedding planner
,
herweddingplanner
,
horns of jealousy
,
Indian wedding traditions
,
informal wedding counselor
,
Japanese wedding traditions
,
wedding celebrations
,
wedding newspaper
,
wedding rituals
,
wedding traditions