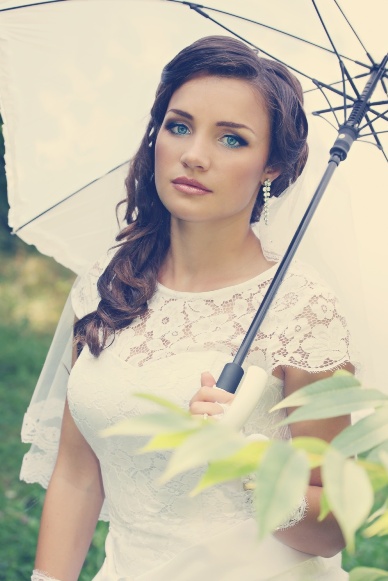 Your special day is finally here…
Oh, no – it's raining!
Don't let the bad weather spoil your mood by taking the time to consider a back up plan for your wedding photo session in case it rains (or snows).
Here are a few tips about indoor locations to use in case the weather does not permit an outdoor wedding photo session:
An abandoned building
Check for abandoned buildings in the area where you are planning to get married – there's (almost) nothing as artistic as the contrast that's created by opposing the glamour of a wedding dress to the enchanted surroundings of an abandoned place.
A museum
For those who are not afraid of experimenting, a museum may turn out to be just the right place for an indoor wedding photo session. The museum offers endless opportunities for creating the perfect newly-wedded couple vision among historic relics and antique settings.
An art gallery
Choosing an art gallery for your indoor wedding photo session is a great way to incorporate the contemporary art with your photographer's vision that will result in a photo album everyone will talk about.
A historic place
What a great way to juxtapose a historic setting to the subtle elegance of your wedding theme? It may be an old fort, a historic inn, a manor, etc. Set your imagination free and be the first to come up with an idea all your friends and family will love!
A library
The library is a sacred place – almost as sacred as a church. So, why not use it in favor of your wedding photo session, showing a unique style and a great taste at the same time?
Note: It's always a good idea to take both the groom and your wedding photographer with you when you choose the indoor venue(s) for your indoor back up photo session as they may come up with some great ideas as well!


Posted in
Wedding
,
Wedding Photography
,
Wedding Planning
,
Wedding Tips
Tags:
her wedding planner
,
Her Wedding Planner tips
,
Her Wedding Planner tips and advice
,
herweddingplanner
,
indoor wedding photos
,
photo session tips
,
Photography
,
rainy day wedding
,
Wedding
,
wedding photo ideas
,
wedding photo indoor locations
,
wedding photos
,
Wedding Planning
,
Wedding Tips